FAQ
How is your network setup?
Our network is designed based on Single mode fiber at a wave length of 1310 nm rated for a distance of 30km or 20 Miles. We connect the dark fiber to ???light it??? with a series of Cisco and Foundry Gear. Each site or ???lit Building??? will have a connection from each of our ore routers located at main pops with Baltimore City. Customers can purchase a maximum of 10 GB of internet connectivity or any increments of starting at 5mbps and up.
I have two or more locations can you provide connections?
YES !
Our network is designed to allow both Layer 3 (routed) and Layer 2 (Switched) traffic. Our common installation for multiple locations includes dual core connectivity for network redundancy at each location. Each location receives seperate internet access for redundancy. Last We will build a virtual lan (VLan) to connect each building. This connection is secure and private to only 1 customer.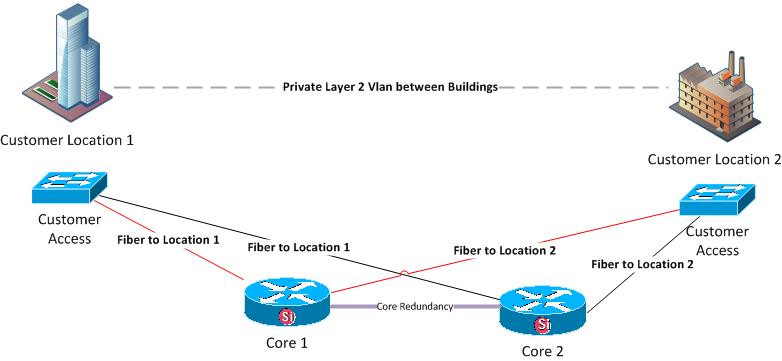 Do I need any special network equipment ?
No, Our preferred hand off is cat 5 or cat 6 Ethernet. This
will connect directly into your firewall. If you company requires a different
network handoff we can provide fiber , both Multimode or?? Single mode
bonded network ports (aggregated bandwidth over 100 mbps) Gigabit Ethernet both?? fiber and electrical handoffs.
What is your average network installation Time
What is your average network installation Time?
Our Max time to install is around 10 days. If you building is already in service we can have your connection up and running in 24 to 72 hours based on building management approval for cable installation. Call us and we will give you a definite answer. 410-256-4999.
I need a Gigabit of Internet bandwidth, can you provide
I need a Gigabit of Internet bandwidth, can you provide?
Our network capability is 10 Gigabit. We have no problem providing a 1 Gigabit Internet connection in Baltimore City. We can provide single mode or multi mode or RJ45 Ethernet to the customers equipment.
Can you install a fiber optic cable inside my building for connectivity ?
Yes commonly called inside plant work. We can send our construction crew to install a fiber optic cable between offices located in the same building. We will install cable along with providing a patch panel with polished ends for each fiber inside the cable. Last we will test each pair with our optical test equipment or OTDR.